Quick & Easy Installation
Our smart blinds are specifically designed in such a way that customers can quickly and easily install them on their own. Simply follow our installation guide for a painless installation experience.
Installation Video Guide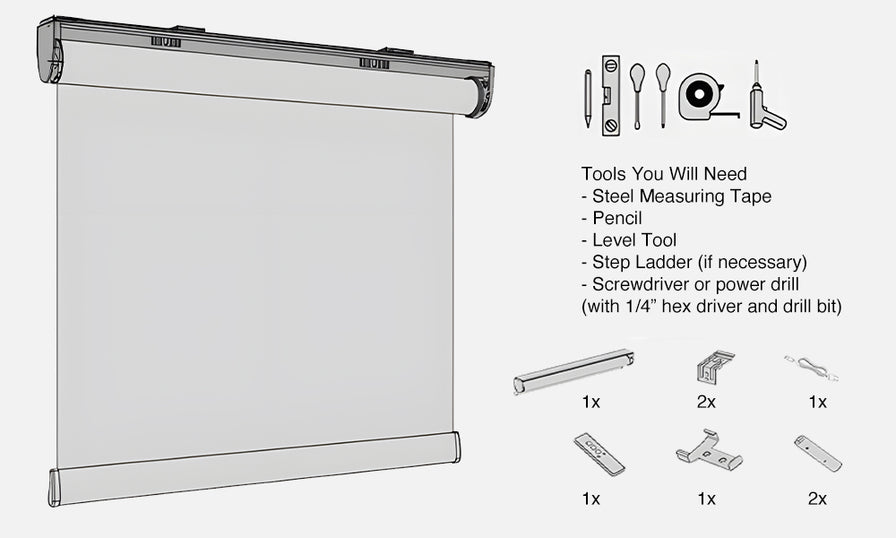 Before you Begin
Please note that an outside mount rests above the window and covers the entire frame.
Double-check all packaging and make sure you received the correct number of screws, mounts, and hardware with your order before you begin installing.
How to Install Your Blinds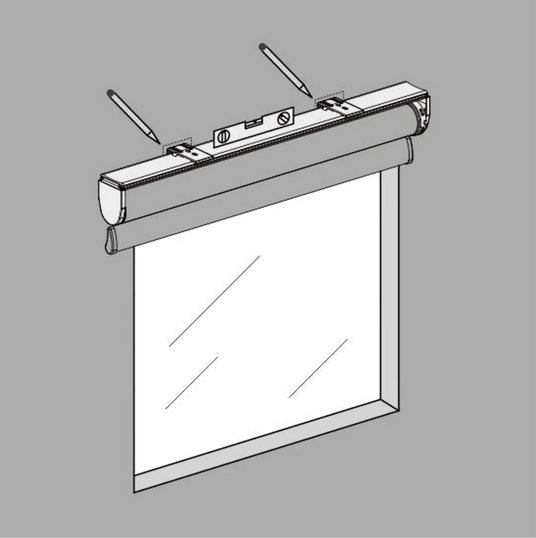 Positioning Your Brackets
STEP 1 - Position the first bracket in the upper corner of the window frame so that it's level with the wall's surface. Always check your specific product instructions for the exact placement of the brackets.
STEP 2 - Mark the screw locations with a pencil.
STEP 3 - Repeat steps 1 and 2 with the second bracket in the opposite corner of the window frame. If you're mounting into drywall with no studs behind, you will need to use drywall anchors.
STEP 4 - Use a level tool to ensure the two bracket locations are even before proceeding to STEP 5.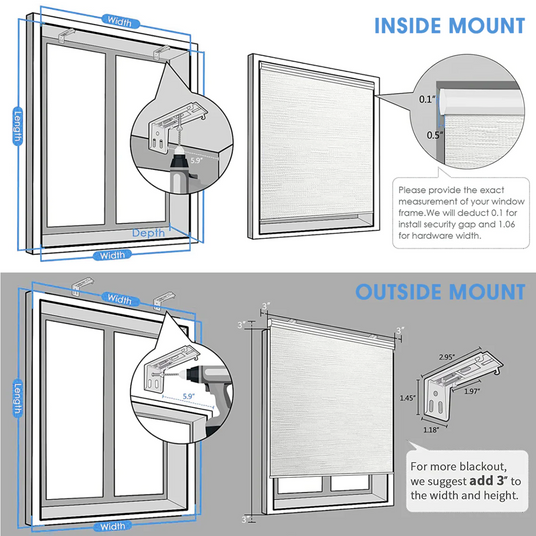 Installing the Brackets
STEP 5 - Choose a drill bit that's smaller than your screws. Drill pilot holes through your bracket marks.
STEP 6 - Screw the brackets into place.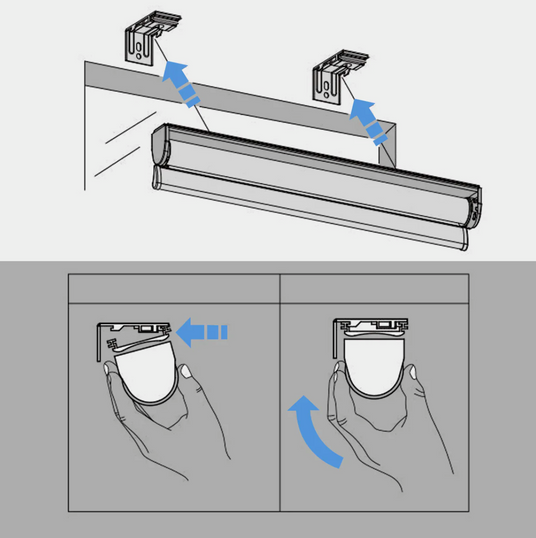 Mounting the Headrail
STEP 7 - Position the headrail with the front panel resting
on the top lip of the brackets. Push the bottom front of the headrail firmly backwards and toward the window until the lip on the rear of the headrail engages the bracket and snaps into place.
Need To Install Outdoor Shades?
Important tips
I'm missing hardware from my order. What should I do?

Please contact us and let us know. We'll rectify the situation for you.
What tools do I need for this installation?

You will need: Steel Measuring Tape, Pencil, Step Ladders if necessary, Screwdriver Drill or Power Drill (with 1/4" hex driver and drill bit),
Is measurement the same for Inside mount and outside mount?

No, be sure to double check and make sure you're accounting for which type of mount you are installing.